A remarkable success story to evolve from humble roots - Our home is our heritage.
Churning milk since 1897, our roots go back to those little dairies that became the principal source of income for countless families along the western seaboard, providing financial security in an era of mass emigration. While today we stand as a national brand, part of a global dairy group, our brand essence remains true to those local roots.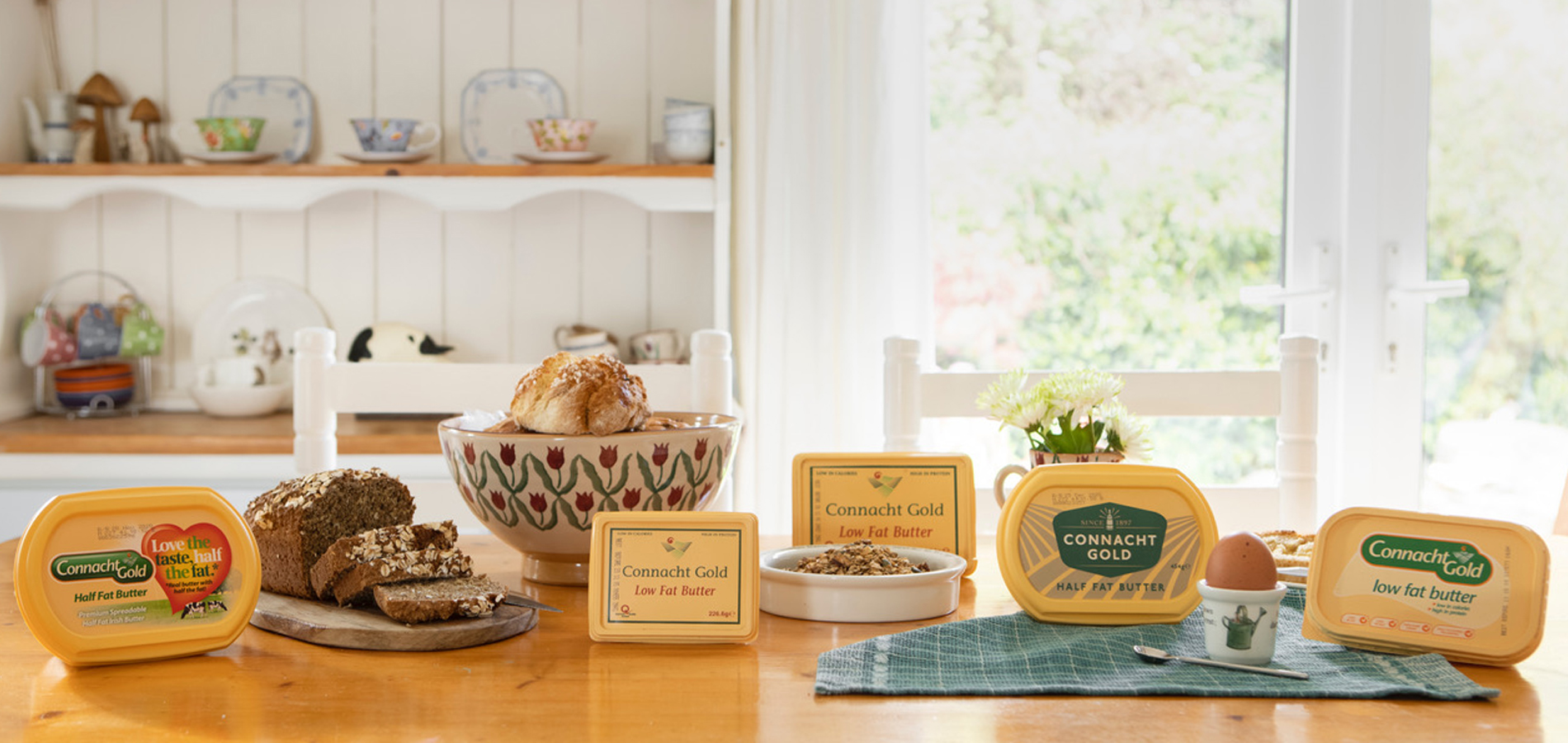 1991 – A Major Milestone – The launch of Connacht Gold butter
Queen Maeve TV advert
The launch of Connacht Gold butter came at a time when people believed the market for butter in Ireland was reaching the end of its life cycle. It was the late 1980s and the dairy industry faced misconceptions that linked butter to high cholesterol diets. Responding to this change in consumer behaviours Connacht Gold was ahead of its time and developed a product that has certainly stood the test of time – engineering a unique non-oil based recipe that upheld Connacht Gold butter as a full dairy product, but with reduced fat. An innovation success story for the late 1980s and one we are still proud of today.
2013 – You Can't Imitate Real Butter
Connacht Gold Cows TV advert
At a time when oil based spreads were trying to mimic real butter Connacht Gold took to the widescreen to address this issue with a little humour and some local cuddly cows. The TV ad highlighted that although imitation was the highest form of flattery, you simply cannot imitate the attributes of real creamy butter. Connacht Gold Real Irish Butter – from Real Irish Cows. Real Butter. Half the Fat.
2016 – There as some things you don't expect to find in a tub
Pippa O' Connor TV advert
Butter is no longer the enemy – In 2014 after Time magazine put the headline "Eat butter" on its front cover, consumers began to move back to real butter as part of a balanced diet. However, research identified that there was a misconception among consumers in relation to how real butter is packaged and presented – Consumers expected real butter to be wrapped in foil, whereas Connacht Gold Half Fat Butter comes in a tub. This led to the creative thought – There are some things you don't expect to find in a tub. Connacht Gold Half Fat Butter – You get all the taste of butter, with all the health benefits of half the fat, and in the convenience of a tub. We really can have it all!
Date Night

A product that is one of a kind – Connacht Gold Half Fat Butter – Showcasing a very modern Ireland and a family unit of lovable characters, that homes across the country can resonate with. Our Make It Real campaign is about educating consumers to know the difference between real butter and a spread, and to know that Connacht Gold Half Fat Butter is in fact real butter. Real butter that spreads straight from the fridge, and with only half the fat.