Stew and buttery, creamy mash potato
The stew is simple and it is a one pot pleaser. I love a good stew and buttery, creamy mash potato. A recent convert to mash and only with lots of butter, sea salt and creamed to almost smooth.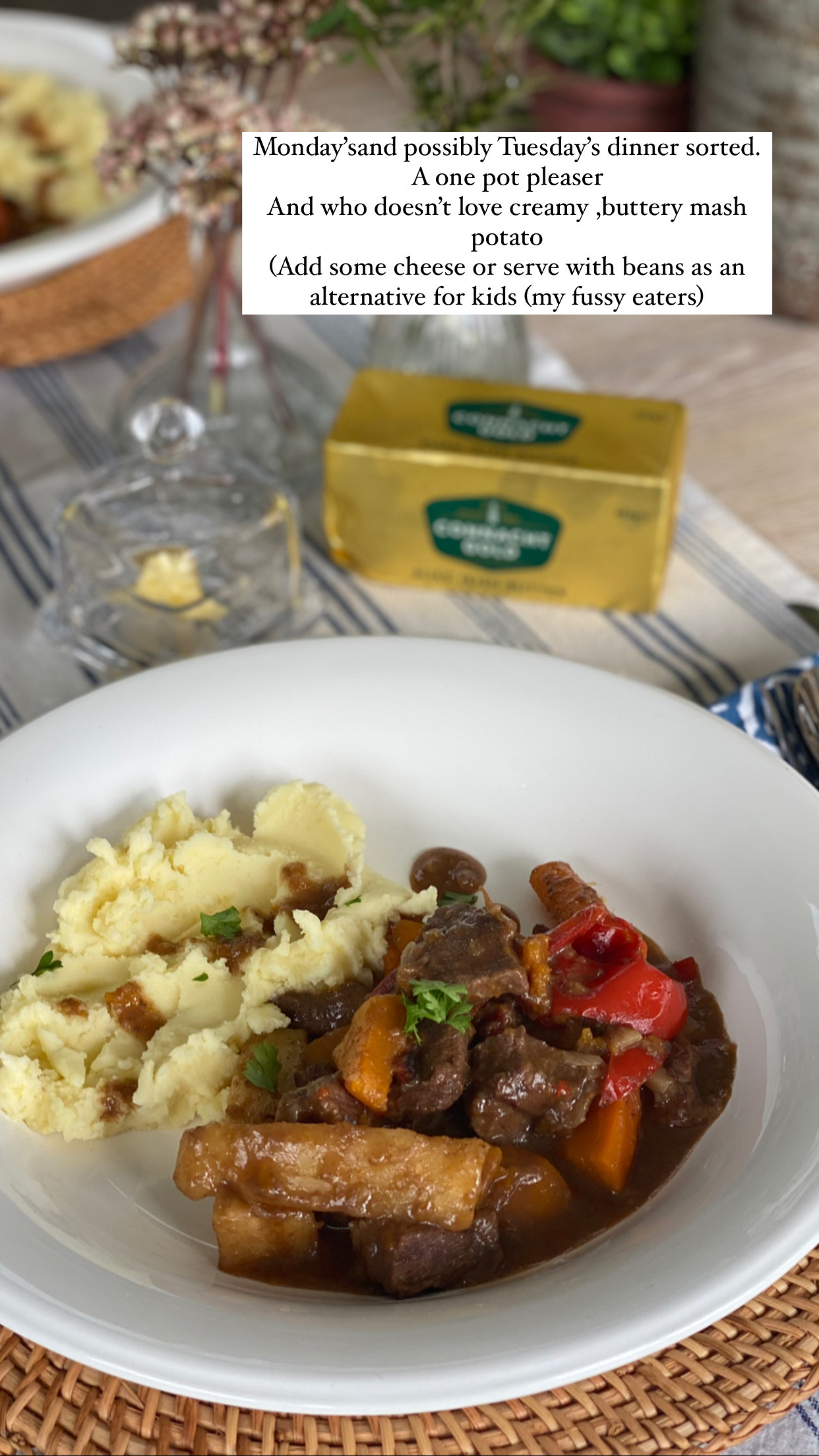 Ingredients
Stew
 2lbs good stewing beef
Chorizo chopped into strips, pancetta also a good alternative.
1 bag potatoes (best for mashing) peel and cut into chunks.
Shallots peeled.
3-4 garlic cloves chopped.
Peppers x2 red.
Carrots chopped lengthways.
 Parsnip.
Butternut squash cut into chunks.
Mushrooms roughly chopped.
1 beef stock pot.
Tin of Guinness or some red wine (alcohol will evaporate) this can be left out.
Connacht Gold butter & cream for creaming potatoes.
Fresh parsley.
4 tablespoons flour with salt to coat beef before stewing.
Method
all in casserole dish
add some olive oil and sauté onion and garlic , add chorizo (I used about 1 sausage length)
add beef coated in flour sear quickly
add all prepared vegetables
add beef stock and water and Guinness or red wine (1cup)
place into preheated oven at approx 180
turn down heat to 150C and allow to slow cook for approx 60-90 mins.
check beef is cooked by making sure the centre is brown and falls apart easily.
Recipes
Below you will find a wide selection of recipes that you can make with our delicious Connacht Gold products. Please use the menu selection to find exactly what you're after.
Chef Adrian
www.chefadrian.ie
Adrian Martin is an Irish chef brought up in County Cavan, Ireland. He trained in some of Ireland's most renowned restaurants including MacNean House and Michelin Star restaurant, Bon Appetite in Malahide where he was head of Pastry.
Sarah Battle
@housebythewhitethorns
Sarah lives in the beautiful West of Ireland with her husband and their 5 kids. She began her blog in 2019 to showcase her passion for home improvement and decor and now uses her platform to showcase snippets of daily family life, baking tips and interior inspiration.