Working with some of Connacht Gold's products to bring you this delicious Lemon yogurt cake with cream cheese frosting. It's a showstopper and perfect for those brighter evenings and a cup of tea.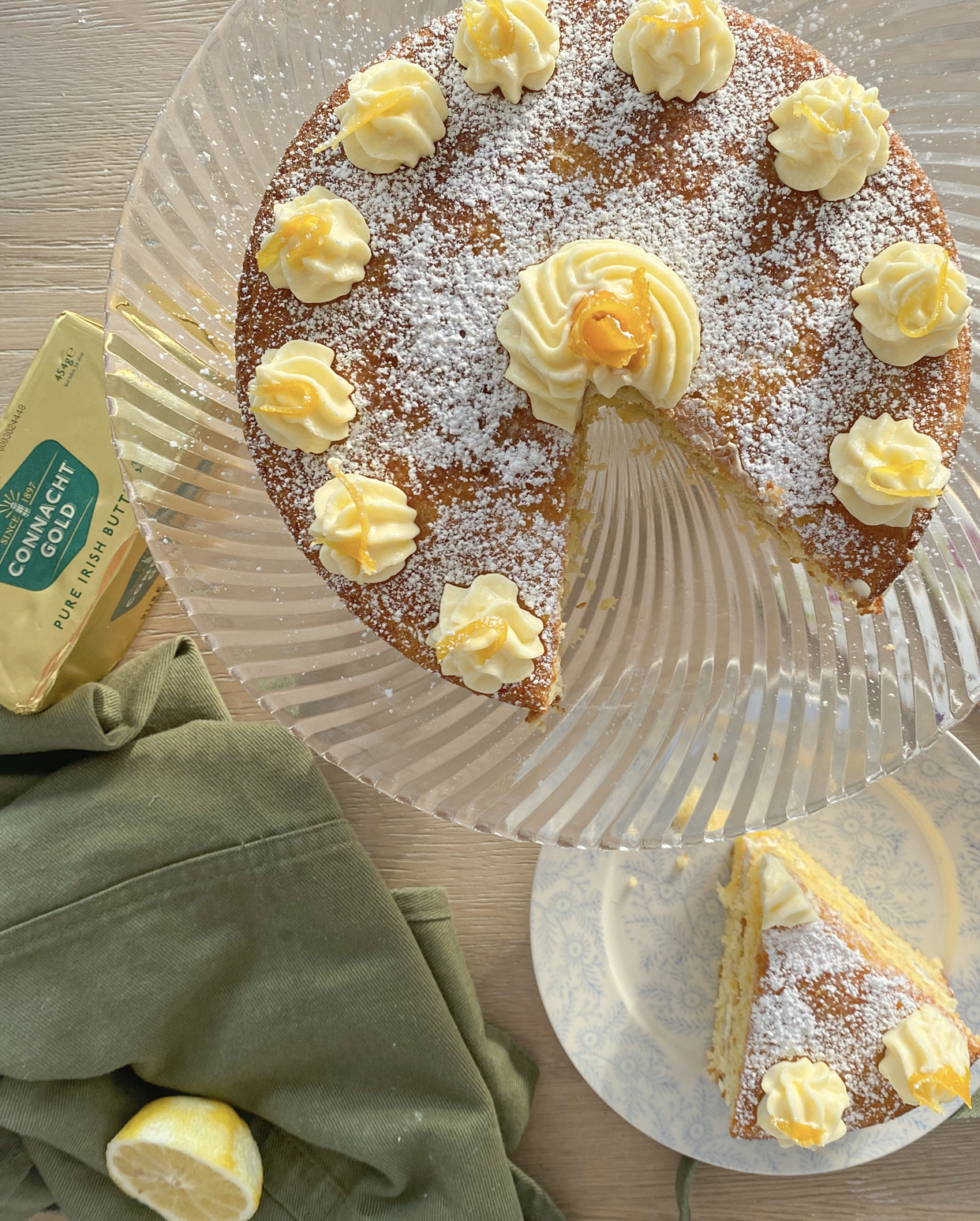 Ingredients
230g Connacht Gold pure Irish butter softened
230g caster sugar
4 large eggs
240g flour
2 tsp baking powder
85g natural yogurt
1 tsp vanilla extract
3 lemons, zested
For the frosting
120g  Connacht Gold butter, softened
120g icing sugar, sieved
1 tsp extract
300g full-fat soft cheese
Method
Preheat the oven to 180C, line the base of two 8 inch sandwich tins with baking parchment. Beat the butter and sugar together for three mins using an electric whisk until smooth and fluffy. Add the eggs, one at a time, beating well between each addition and scraping down the sides of the bowl. Fold in the flour and baking powder until well incorporated, then fold in the yogurt, vanilla and lemon zest. Divide between the tins and bake for 30-35 mins until golden and a skewer inserted into the middles comes out clean.
Leave to cool on wire tray out of tins.
For the icing, beat the butter and icing sugar together using an electric whisk for four – five mins until smooth, scraping down the sides of the bowl as you go. Add the vanilla and soft cheese and beat for four mins more until thick and creamy.
I used a piping bag but you can simply spoon on frosting when sponges are cool.
Spread around using a spatula
If you have a piping bag , use it to decorate the middle and top.
Dust with icing sugar
Enjoy!
Recipes
Below you will find a wide selection of recipes that you can make with our delicious Connacht Gold products. Please use the menu selection to find exactly what you're after.
Chef Adrian
www.chefadrian.ie
Adrian Martin is an Irish chef brought up in County Cavan, Ireland. He trained in some of Ireland's most renowned restaurants including MacNean House and Michelin Star restaurant, Bon Appetite in Malahide where he was head of Pastry.
Sarah Battle
@housebythewhitethorns
Sarah lives in the beautiful West of Ireland with her husband and their 5 kids. She began her blog in 2019 to showcase her passion for home improvement and decor and now uses her platform to showcase snippets of daily family life, baking tips and interior inspiration.