Vintage cheddar, white onion and chive soda bread
A nice easy savoury soda bread. The recipe, one of Darina's great convertibles, is made with 3 basics ingredients; flour, bread soda and Connacht Gold buttermilk and add the extras you want.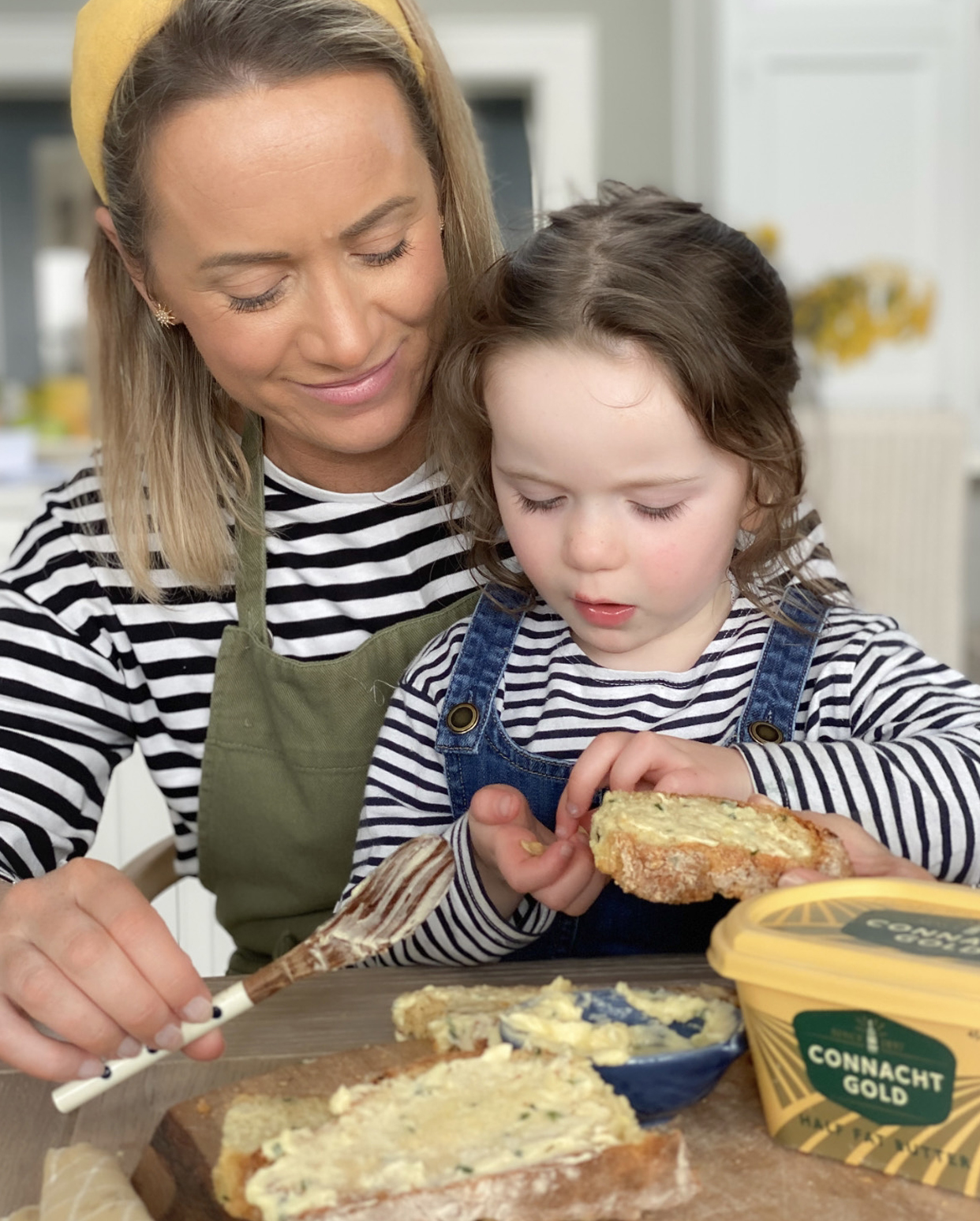 Ingredients
450g plain flour 
1teaspoon white sugar 
1 teaspoon sea salt
1 level teaspoon bread soda
500ml buttermilk
Fresh chives cut with food scissors
1 small white onion finely diced
60g vintage cheddar cheese
Method
Preheat oven to 250C
Sieve flour into bowl, sieve in the bread soda and add salt and sugar.
Mix in the other ingredients.
Make a well in the centre of the flour ,pour the buttermilk in altogether.
Using hands bring flour in from around the bowl in a circular motion.
The dough should be softish not too wet.
Turn out onto a well floured surface.
Wash hands.
Tidy up the dough and flip over.
Pat and press out to about 5cm  thick.
Cut a deep cross on the loaf and prick 4 corners.
Place on baking tray and bake in oven for 15minutes at 250C then turn down to 170C for 30 minutes.
Cool on rack 
Best eaten on the day made. I usually serve warm with some half fat Connacht Gold butter. Mix in a clove of garlic and some chopped chives.
Recipes
Below you will find a wide selection of recipes that you can make with our delicious Connacht Gold products. Please use the menu selection to find exactly what you're after.
Chef Adrian
www.chefadrian.ie
Adrian Martin is an Irish chef brought up in County Cavan, Ireland. He trained in some of Ireland's most renowned restaurants including MacNean House and Michelin Star restaurant, Bon Appetite in Malahide where he was head of Pastry.
Sarah Battle
@housebythewhitethorns
Sarah lives in the beautiful West of Ireland with her husband and their 5 kids. She began her blog in 2019 to showcase her passion for home improvement and decor and now uses her platform to showcase snippets of daily family life, baking tips and interior inspiration.