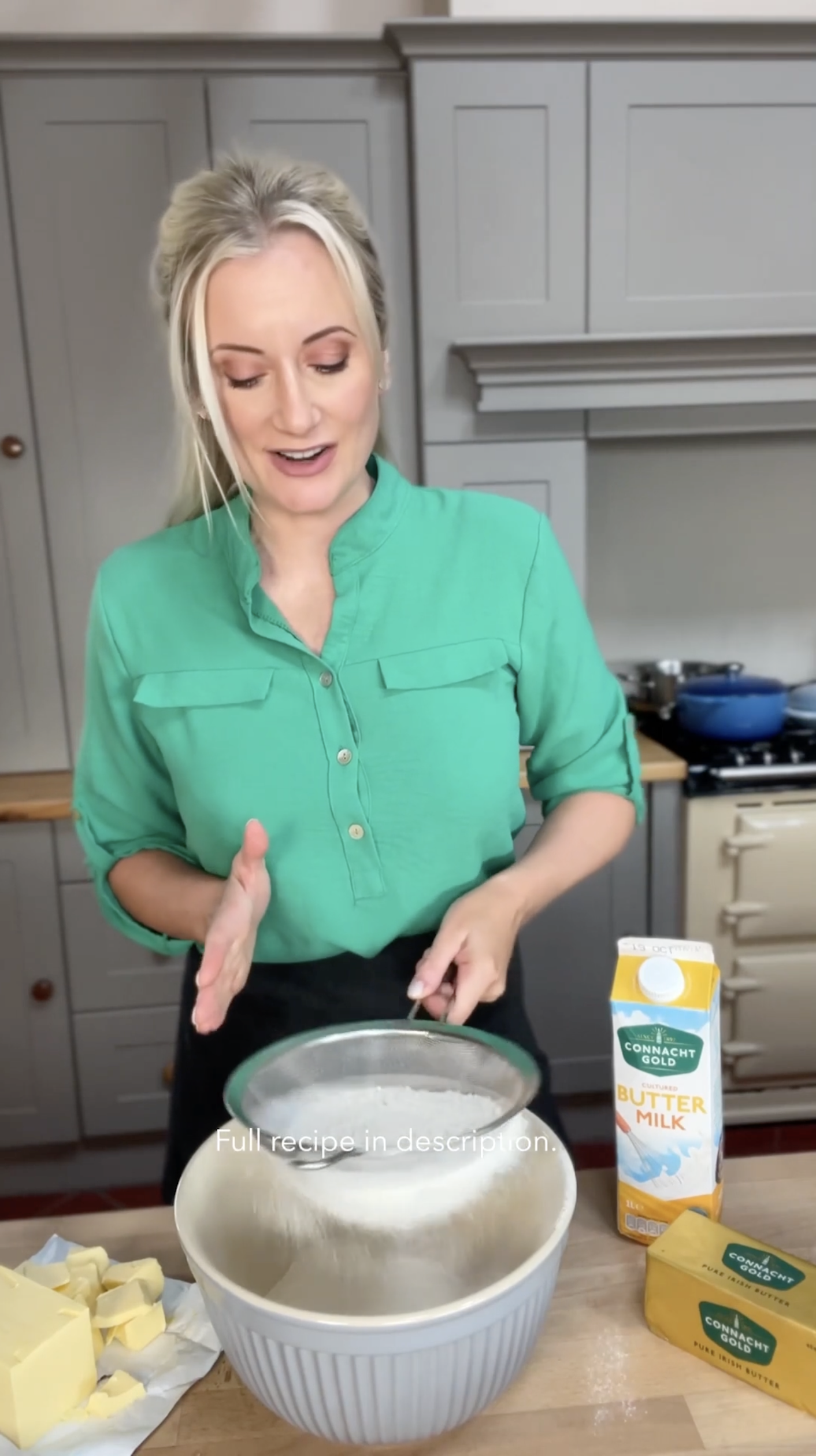 Ingredients
350 g self-raising flour
1 tsp baking powder
2 tbsp caster sugar
75 g cold butter
1 egg
175 ml buttermilk
1 beaten egg to brush scones
Method
Preheat oven 220C/200C fan/gas 7
Sieve 350g self-raising flour and 1 tsp baking powder into a large bowl.
Add 2 tbsp of caster sugar and combine well.
Add cold butter and using your fingers, combine through the flour, feeding the mixture through your fingers until it resembles breadcrumbs.
Crack egg into 175 ml buttermilk and mix.
Gradually add buttermilk and egg mixture to the flour mixture, using your hands to bring it all together. You may not use all the buttermilk so be sure to add this gradually so mixture does not become too wet.
Tip your dough onto a surface dusted with a little flour.
Wash your hands at this point as it will be much easier to work with your dough with clean hands.
Sprinkle a little flour over your dough and fold the dough over 2-3 times until you form a smooth ball and using your rolling pin, roll to a depth of 4cm.
Use a 5cm cutter to cut scones, placing cutter in flour if you need to stop it sticking to the dough.
Brush each scone with a little beaten egg and place on a floured baking tray.
Bake for 12-18 minutes (depending on size of your scones) until golden on top.
Once baked, place on a wire rack and cover with a clean tea towel.
Recipes
Below you will find a wide selection of recipes that you can make with our delicious Connacht Gold products. Please use the menu selection to find exactly what you're after.
Chef Adrian
www.chefadrian.ie
Adrian Martin is an Irish chef brought up in County Cavan, Ireland. He trained in some of Ireland's most renowned restaurants including MacNean House and Michelin Star restaurant, Bon Appetite in Malahide where he was head of Pastry.
Sarah Battle
@housebythewhitethorns
Sarah lives in the beautiful West of Ireland with her husband and their 5 kids. She began her blog in 2019 to showcase her passion for home improvement and decor and now uses her platform to showcase snippets of daily family life, baking tips and interior inspiration.
Sarah Butler
​www.sarahbutlerathome.com
@sarahbutlerathome
Sarah is a Cookbook author from Co. Mayo. After 20 years working as a Graphic Designer her career curved into cooking during COVID.
She has since published three cookbook and now works full time as a food influencer teaching her simple, homecooked recipes with a focus on reducing food waste and making cooking and baking fun!