I really enjoyed making these and so so easy. Hot cross buns a tradition dating back centuries, but also a tradition with Connacht Gold.
Each year Connacht Gold kick off Easter with their annual Connacht Gold Hot Cross Bun day which usually takes place on Holy Thursday where they host delicious tasting events throughout the country – Toasted Hot Cross Buns buttered in creamy Connacht Gold Half Fat Butter – just delicious! I used Mary Berry's fool proof recipe below.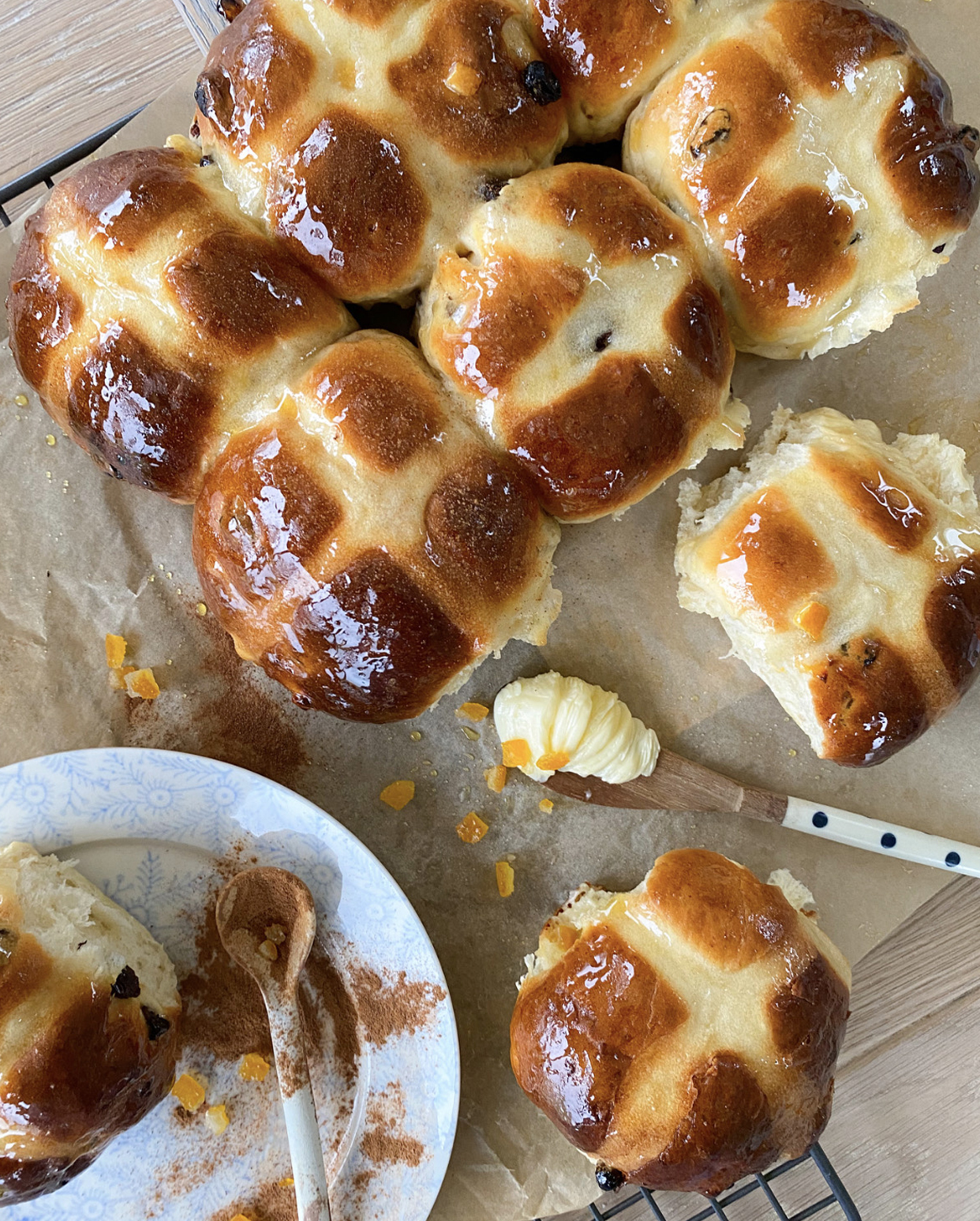 Ingredients
500g strong white flour  
75g caster sugar 
2 teasp mixed spice 
1 teasp ground cinnamon  
10g salt  
10g fast action dried yeast  
40g Connacht Gold butter 
300ml Connacht Gold milk 
1 free range egg beaten  
150g sultanas  
50g mixed peel  
75g flour mixed with water for the cross  
2 tblsp golden syrup for the glaze 
Method
Add dry ingredients to bowl, keep yeast and salt on separate sides.
Slightly warm Connacht Gold milk and  butter together in a saucepan.
Add wet ingredients to dry ingredients and stir around with your hand bringing the dough together.
Tip onto a floured surface and knead for 10 mins until shiny and elastic .
Place in an oiled bowl and cover , leave to double in size 2 hours.
Tip out again and knock back dividing the dough into approx ten balls , shape them and press down on top to be flat and smooth.
Cover and allow to double in size approx 40 minutes.
Mix flour and water and add to piping bag and snipe the bottom to a small opening.
Place in preheated oven of 220C for 15 minutes until baked.
Remove from oven warm the golden syrup and brush across the top.
Serve warm with delicious half fat Connacht Gold butter.
Recipes
Below you will find a wide selection of recipes that you can make with our delicious Connacht Gold products. Please use the menu selection to find exactly what you're after.
Chef Adrian
www.chefadrian.ie
Adrian Martin is an Irish chef brought up in County Cavan, Ireland. He trained in some of Ireland's most renowned restaurants including MacNean House and Michelin Star restaurant, Bon Appetite in Malahide where he was head of Pastry.
Sarah Battle
@housebythewhitethorns
Sarah lives in the beautiful West of Ireland with her husband and their 5 kids. She began her blog in 2019 to showcase her passion for home improvement and decor and now uses her platform to showcase snippets of daily family life, baking tips and interior inspiration.