Mince Pies and Brandy Cream
It is definitely the festive season, Connacht Gold Brandy cream is back on the shelves, I serve it with delicious homemade mince pies.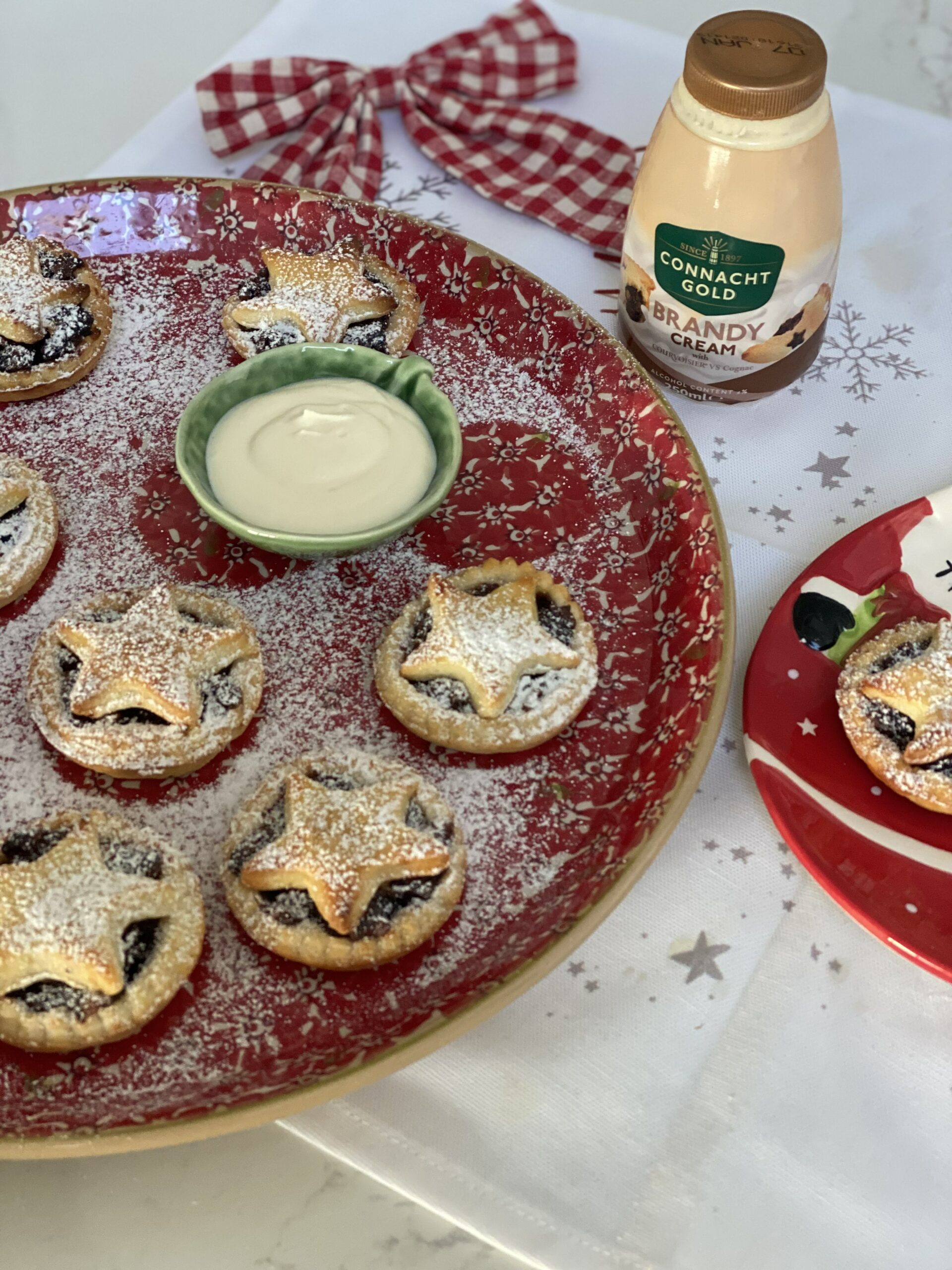 I made a rich shortcrust pastry and added some delicious homemade mincemeat bought locally. Or you can make your own.
Ingredients
225g flour
175g Connacht Gold butter
2 teasp icing sugar
1 egg
Cold water 3 tablespoons
Method
Rub Connacht Gold butter into sieved flour and icing sugar until it resembles breadcrumbs.
Beat egg and add 3/4 with to some water use a knife to bring pastry together.
Chill in fridge for 10minutes.
Knead pastry slightly and roll out.
Cut into shapes for a shallow bun tray.
Add 1 tablespoon of mincemeat to each case and add star to the top pushing down corners of the star.
Brush with remaining egg wash .
Place tray in preheated oven at 180C for 25-25 mins.
Whip up Connacht Gold Brandy cream
And serve with warm mince pie.
Recipes
Below you will find a wide selection of recipes that you can make with our delicious Connacht Gold products. Please use the menu selection to find exactly what you're after.
Chef Adrian
www.chefadrian.ie
Adrian Martin is an Irish chef brought up in County Cavan, Ireland. He trained in some of Ireland's most renowned restaurants including MacNean House and Michelin Star restaurant, Bon Appetite in Malahide where he was head of Pastry.
Sarah Battle
@housebythewhitethorns
Sarah lives in the beautiful West of Ireland with her husband and their 5 kids. She began her blog in 2019 to showcase her passion for home improvement and decor and now uses her platform to showcase snippets of daily family life, baking tips and interior inspiration.