Chocolate chip and orange hot cross buns
Celebrating @connachtgold hot cross bun day today!
The annual treat which happens every year the Thursday before Easter.
This year I made chocolate chip and orange hot cross buns, serve warm with butter.
​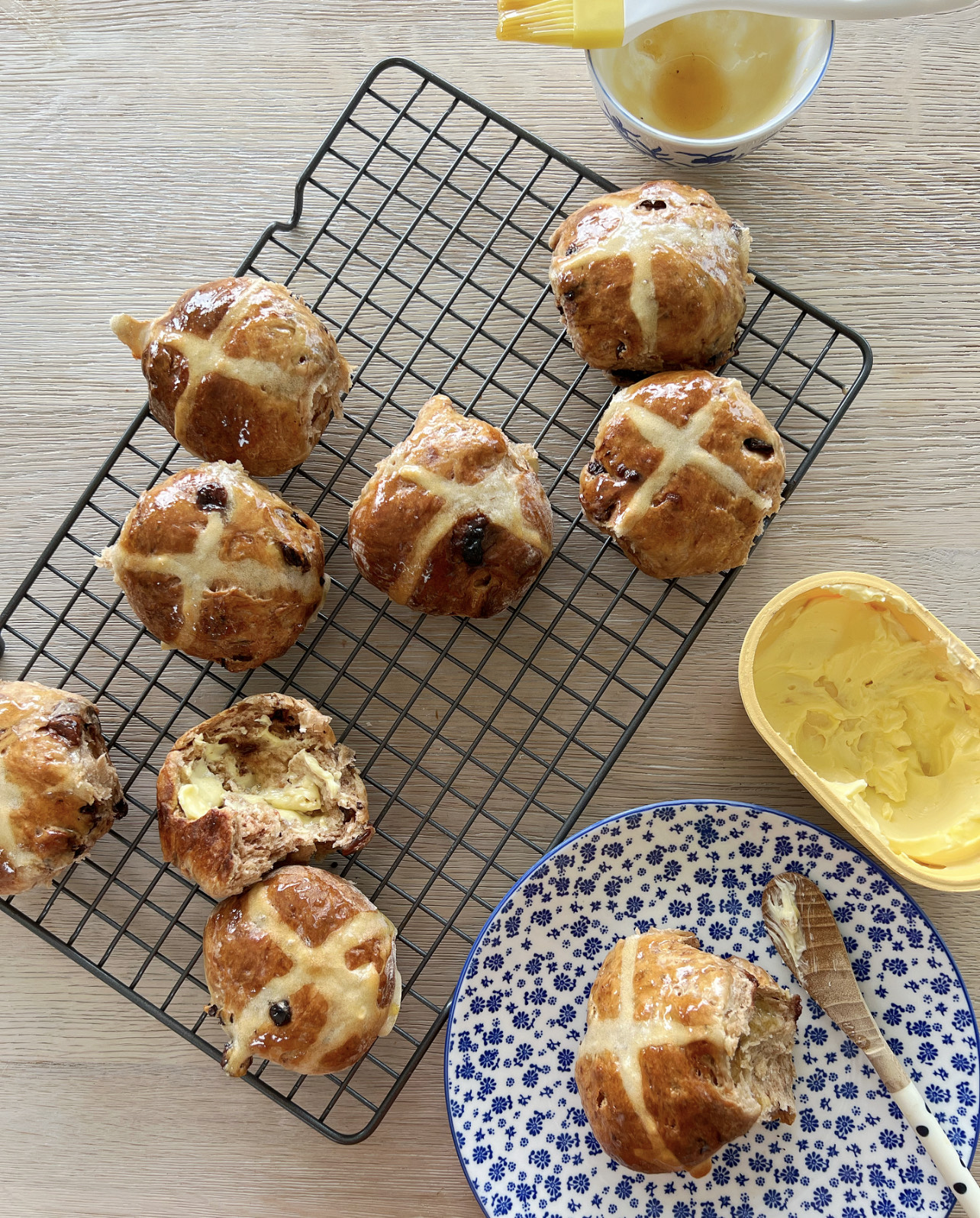 Ingredients
240ml Connacht Gold milk

50g Connacht Gold pure Irish butter , chopped, plus extra for greasing

3 tbsp marmalade

450g strong white bread flour

100g plain flour

7g sachet fast-action dried yeast

1 tsp ground cinnamon

80g raisins

1tsp salt

50g chopped dark chocolate , 50g chopped Terrys chocolate orange .

1 large egg , beaten
Method
Heat milk in pan, add butter and leave to side.
Sieve all flours and cinnamon into bowl, add salt and yeast separately, add raisins, chocolate chips and stir.
Add egg to milk mixture.
Make a well in centre and add liquid and 2good tablespoons of marmalade.
Bring together.
Knead in floured surface.
Add to oiled bowl.
Cover with tea towel and leave to double in size for 2 hours.
Turn out and knock the dough back and divide into ten balls.
Knead and shape in buns.
Place in greased tray and allow to rise for 40 minutes.
Make the dough paste for crosses by mixing 75g flour with water. Add to sandwich bag and snip corner and place on.
Place in preheated oven at 190C for approx 20-25 minutes.
Glaze with melted marmalade or golden syrup.
Serve warm with Connacht Gold butter.
Recipes
Below you will find a wide selection of recipes that you can make with our delicious Connacht Gold products. Please use the menu selection to find exactly what you're after.
Chef Adrian
www.chefadrian.ie
Adrian Martin is an Irish chef brought up in County Cavan, Ireland. He trained in some of Ireland's most renowned restaurants including MacNean House and Michelin Star restaurant, Bon Appetite in Malahide where he was head of Pastry.
Sarah Battle
@housebythewhitethorns
Sarah lives in the beautiful West of Ireland with her husband and their 5 kids. She began her blog in 2019 to showcase her passion for home improvement and decor and now uses her platform to showcase snippets of daily family life, baking tips and interior inspiration.