A must save gingerbread recipe. It is delicious, foolproof and works.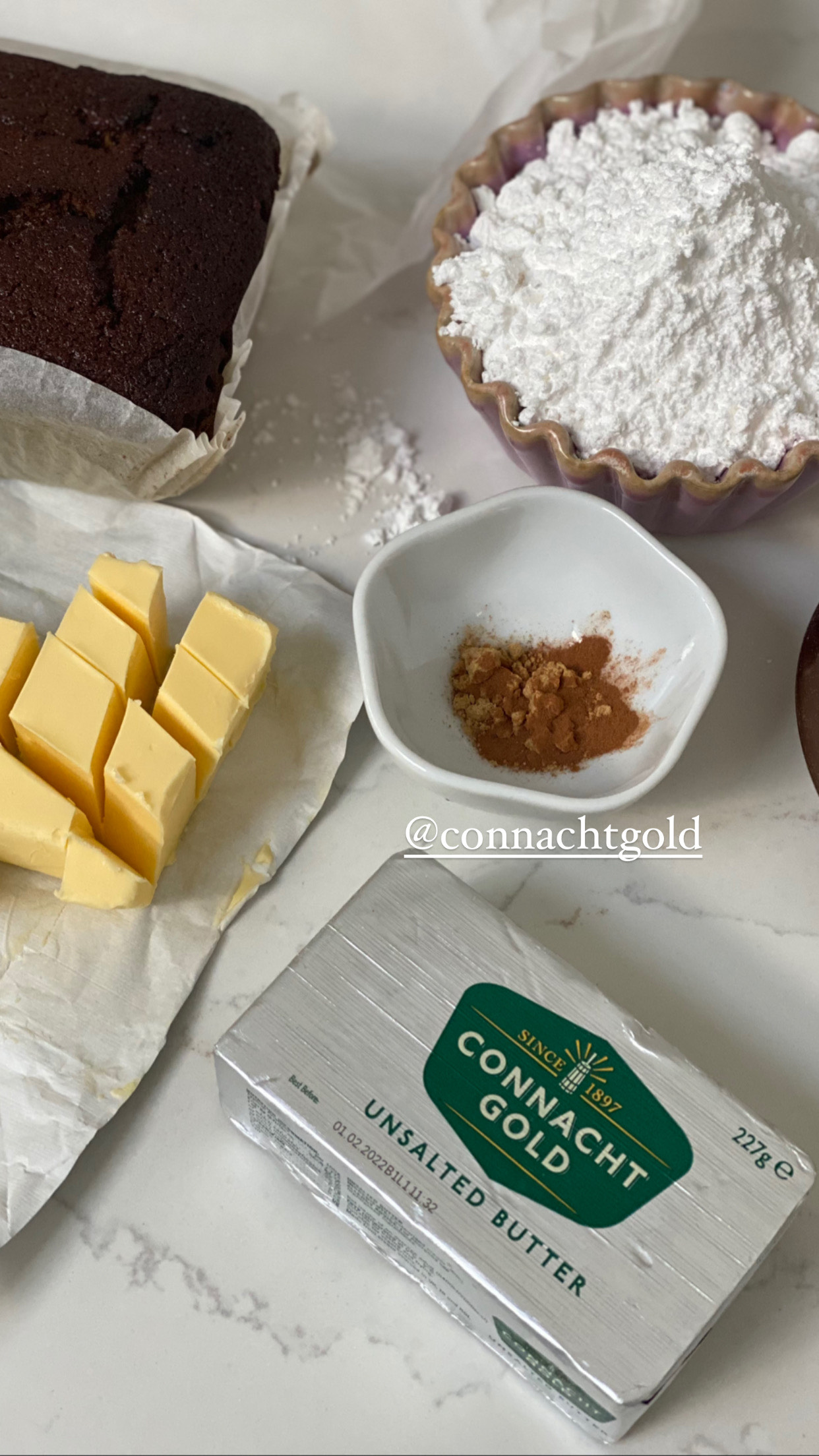 Ingredients
5225g flour
3 teasp of ground ginger
15cm of root ginger chopped finely
1 teasp baking powder
150 ml Connacht Gold milk
125g Connacht Gold Unsalted butter
125g brown sugar
125g golden syrup (4 tablespoons)heat spoon first. 
125g treacle (same as golden syrup )
150ml milk this is repeated
1 egg
Buttercream
250g icing sugar
125g @connachtgold unsalted butter
2 tablespoons brandy (optional)
1 teasp. ground ginger
1/2 teasp cinnamon
This recipe comes from the oldest Mc Donnells cookbook (1971) but they always are the best . I've added in some fresh ginger and topped with a brandy and ground ginger buttercream using Connacht Gold unsalted butter.
Method
I used a 2lb loaf tin , line with a loaf case or parchment.
Preheat oven to 180C
Dissolve Bread soda with 1 tablespoon of milk in a bowl .
melt butter, sugar, syrup, treacle and milk in saucepan over a low heat , do not boil.
Allow to cool to Luke warm.
Sieve flour , ground ginger  into a bowl .
Add the wet ingredients and beat with a spoon.
Add the beaten egg and bread soda and beat again until smooth.
Pour into tin and bake in preheated oven for 30-45 mins depending on oven.
Inset skewer for doneness.
Best all buttercream ingredients together in stand mixer . (Make sure butter is at room temp).
Decorate the top as you wish.
Recipes
Below you will find a wide selection of recipes that you can make with our delicious Connacht Gold products. Please use the menu selection to find exactly what you're after.
Chef Adrian
www.chefadrian.ie
Adrian Martin is an Irish chef brought up in County Cavan, Ireland. He trained in some of Ireland's most renowned restaurants including MacNean House and Michelin Star restaurant, Bon Appetite in Malahide where he was head of Pastry.
Sarah Battle
@housebythewhitethorns
Sarah lives in the beautiful West of Ireland with her husband and their 5 kids. She began her blog in 2019 to showcase her passion for home improvement and decor and now uses her platform to showcase snippets of daily family life, baking tips and interior inspiration.